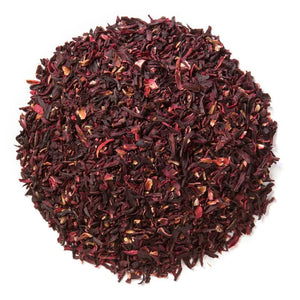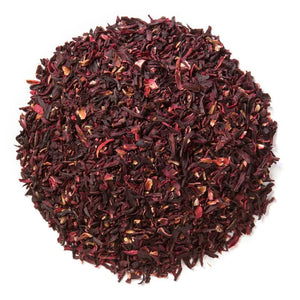 On Sale
Organic Hibiscus Tea
With its tangy and tart flavor profile, hibiscus tea is known for its high concentration of antioxidants that protect your body from harmful free radicals and potentially reduce the risk of chronic diseases.  Hibiscus tea is also great to aid the digestive system by relieving symptoms like constipation and bloating.
Hibiscus tea is often consumed as a refreshing iced tea, although it can also be enjoyed hot, on its own or combined with other ingredients like ginger, mint, or lemon to enhance its flavor. It can also be used as a natural food coloring agent due to its bright red color.
Moreover, hibiscus tea is naturally caffeine-free, making it an ideal option for those looking for a soothing and calming beverage. And by choosing loose leaf tea, you're ensuring a premium quality experience with fresher, larger leaves that deliver a fuller flavor and aroma compared to conventional teabags. Best of all, our Hibiscus loose leaf tea is eco-friendly and doesn't contain any harmful chemicals, making it a healthy and sustainable choice for both you and the planet.