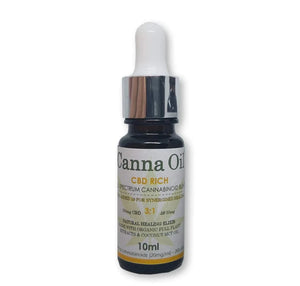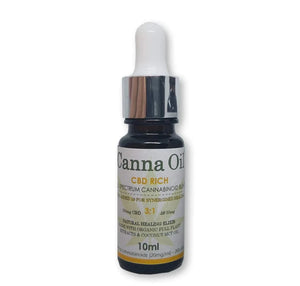 On Sale
Canna Oil CBD Rich
This CBD rich Cannabinoid Blend is an energetic blend designed for those wanting high amounts of CBD and no psychoactivity. 
This blend contains more CBD than Δ9. It can be used during the day with no sedative side effects. It's often used for those not requiring pain relief or direct symptom relief.

Often used for stress, anxiety and depression - and can be used anytime during the day. Nice to help you relax but still be functional to go about your daily routines, work, etc. Good for mental & neurological illnesses.

Can help with:

- Anxiety, stress, tension, depression
- Parkinson's. Alzheimer's. Dementia
- Epilepsy, seizures
- Autism
Technically speaking, CBD oil is Cannabis Oil. CBD is a chemical (cannabinoid) found in Cannabis. However, this Canna Oil is full spectrum, meaning it has CBD and many other cannabinoids found naturally in Cannabis.
Looking for a pick-me-up during the day? Look no further than this CBD-rich blend, which provides a mild pain-relieving effect while keeping you alert and focused. Perfect for those looking to maintain their health and wellness, including those with autoimmune issues, undergoing cancer treatment, or suffering from nausea or anxiety.

This blend is safe for use on animals and older children. Just make sure to consult with us first to ensure proper dosage.
Dossage:

Standard dosage is 2-6 drops. Due to the cannabinoid profile on this blend we recommend only using it during the day, due to its  energizing properties. 
Ingredients:
Contains a ratio of 3:1 CBD:Δ9
Our 10ml bottle contains 200 drops.
200mg total cannabinoids. (~150mg CBD, ~50mg Δ9)
~1mg of cannabinoids per drop.
Using ~6 drops a day, this bottle will last around a month.