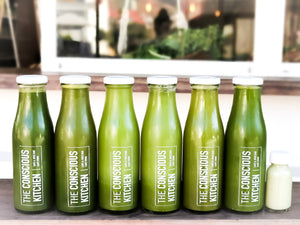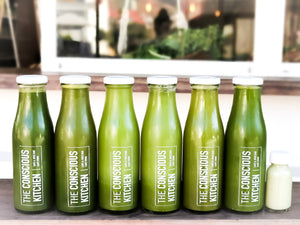 On Sale
Celery Cleanse
Celery juice took the world by storm, after Anthony William's book "Celery Juice: The Most Powerful Medicine of Our Time: Healing Millions Wordwide" started a global trend. William claims that "celery juice is one of the most powerful and healing juices we can drink. Just 16 ounces (473ml) fresh celery juice every morning on an empty stomach can transform your health and digestion in as little as one week". 
You have probably seen your instagram and facebook feed filling up with this green juice, from celebrities posting about their daily celery juice routines to people from all walks of life sharing pictures and testimonials of their dramatic recovery stories. Curious to try it and see for yourself? Give our celery cleanse a try. 
This cleanse starts with 750 ML of pure organic celery juice everyday, which is supported by 4 other green juices, and 1 health shot.
If you are looking to try celery juice every morning rather than in a cleanse, we recommend buying seperate bottles of cellery juice in our shop.  Each juice will last up to 4 days when refigerated.
Every TCK cleanse comes with:
1 organic coconut water (per day) to ensure that you stay hyrdrated during the duration of your cleanse.

TCK Juice cleanse guide, which includes:

a deeper look into the benefits of juice cleansing & a

 detailed account of the specific benefits of each juice in your cleanse.
Pre- and Post cleanse recipes

FAQ's and tips for during the cleanse.

A cleanse diary and schedule
Please note: R10 in-store credit deposit on all glass bottles & jars