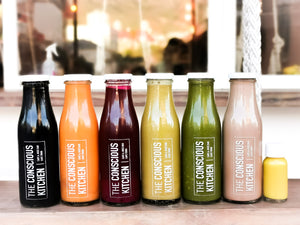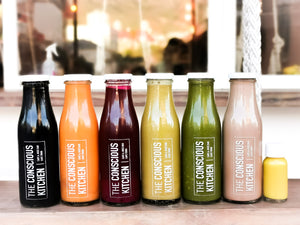 On Sale
DEEP
Sometime's easy does it. This is the perfect cleanse for beginners, or for those of you with a vegetable phobia. Our 'Deep' cleanse consists of 5 fruit and vegetable juices, our chocolate almond milk & 1 health shot. This cleanse offers a variety of flavors, and plenty of fruits, excluding vegetable only based juices. Each juice has its own unique taste, perfectly balancing natural fruit sugars with vegetable nutrients, for optimal energy during the day. 
Every TCK cleanse comes with:
1 organic coconut water (per day) to ensure that you stay hyrdrated during the duration of your cleanse.

TCK Juice cleanse guide, which includes:

a deeper look into the benefits of juice cleansing & a

 detailed account of the specific benefits of each juice in your cleanse.
Pre- and Post cleanse recipes

FAQ's and tips for during the cleanse.

A cleanse diary and schedule
Please note: R10 in-store credit deposit on all glass bottles & jars.