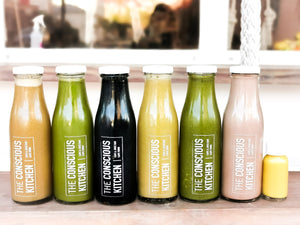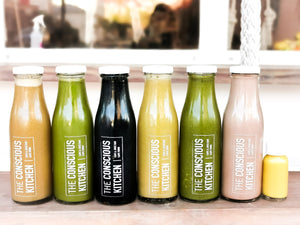 On Sale
DEEPER
This cleanse includes a bit more greens & veggies, it contains less fruits and natural sugars (but does not exclude them entirely). This is a great cleanse for more experienced cleansers, looking to take their next cleanse to the next level. It consists of 3 green juices (of which 2 are vegetable only juices), 2 juices which include fruit (but exclude any fruits rich in natural sugars), 1 sugar free chocolate almond milk and one health shot.  
Every TCK cleanse comes with:
1 organic coconut water (per day) to ensure that you stay hyrdrated during the duration of your cleanse.

TCK Juice cleanse guide, which includes:

A deeper look into the benefits of juice cleansing & a

 detailed account of the specific benefits of each juice in your cleanse.
Pre- and Post cleanse recipes

FAQ's and tips for during the cleanse.

A cleanse diary and schedule
 N/B:  Cleanses can only be collected or delivered with 24 hours notice.
Please note: R10 in-store credit deposit on all glass bottles & jars.